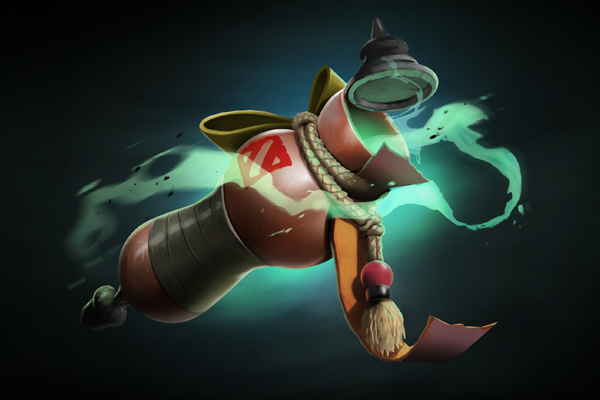 Dota Plus
Dota Plus is a premium monthly subscription service for Dota 2. It comes with many features, including hero progression, selective matchmaking, statistical analysis, shards, relics, terrains, chat wheel lines/sounds, player tipping, and cosmetic item rewards. Dota Plus subscribers also get additional rewards from Battle Passes and events.
Dota Plus can be purchased as one time payment or as a recurring subscription.
Dota Plus can be purchased as a gift for friends.
Prices vary slightly depending on currencies.
| | | |
| --- | --- | --- |
| 1 month | $3.99 USD | None |
| 6 month | $22.99 USD | 6% |
| 12 month | $41.99 USD | 12% |
Hero progression[edit]
Challenges[edit]
Dota Plus subscribers will gain access to challenges unique to each hero.
Completing a challenge earns experience points towards a hero's level.
Three challenges are available at a time.
Each challenge has three difficulty tiers that reward increasing amounts of experience.
Challenges can only be completed if the match is won.
Challenges can be refreshed once every two weeks.
Challenges are not available in Turbo Mode.
Levels and Tiers[edit]
Completing a match earns 50 XP for the hero you played.

Winning the match earns an additional 50 XP for that hero.

Completing a hero challenge earns 250, 375, or 500 XP for the hero you played, depending on the tier completed.
Players cannot earn hero XP or complete challenges in Ability Draft, or All Random Deathmatch.
Players will earn half XP in Turbo Mode.
All players can earn up to hero level 5. Only Dota Plus can level further.
Leveling up earns shards and unlocks tiers.

Each tier comes with its own badge and unlocks hero voice lines for the Chat Wheel.
Badges are displayed over the hero at the beginning of each match.
Badges are displayed next to a hero's name in the in-game chat.
Badges are displayed to teammates when pinging on the map.
1
50
50
–
2 lines (Team chat)

Bronze
2
300
350
1,300
3
400
750
1,300
4
500
1250
1,300
5
600
1850
1,300
6
900
2750
2,400
2 lines (All chat)

Silver
7
1000
3750
2,400
8
1100
4850
2,400
9
1200
6050
2,400
10
1300
7350
2,400
11
1400
8750
2,400
12
1700
10450
3,200
2 lines (All chat)

Gold
13
1800
12250
3,200
14
1900
14150
3,200
15
2000
16150
3,200
16
2100
18250
3,200
17
2200
20450
3,200
18
2500
22950
4,000
1 line (All chat)

Platinum
19
2600
25550
4,000
20
2700
28250
4,000
21
2800
31050
4,000
22
2900
33950
4,000
23
3000
36950
4,000
24
3100
40050
4,000
25
6800
46850
9,700
1 line (All chat)

Ping effect

Master
26
4000
50850
4,800
27
4200
55050
4,800
28
4400
59450
4,800
29
4600
64050
4,800
30
8000
72050
10,000
1 line (All chat)

Grandmaster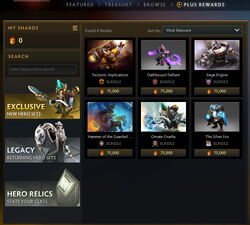 Shards can be earned by leveling up heroes under the Plus service, completing seasonal quests, winning a Weekend Battle Cup, predicting win streaks, or winning three matches per week. They are used to purchase Relics, Tools, Chat Wheel sounds, Event items and cosmetic items, some of which are exclusive to the Plus Store.
Prediction Charm[edit]
Dota Plus subscribers can predict win streaks and earn shards.
Exclusives[edit]
The following items can only be obtained from the Plus Store.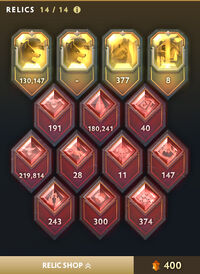 Relics are counters that track a hero's actions and statistics. Each hero has ten common Relics and four rare Relics, which can be purchased with shards. Relics display an in-game notice and particle effect whenever a milestone is reached on their counters.
Terrains[edit]
Plus subscribers will have access to year-round Seasonal Terrains as they become available.
Matchmaking[edit]
Dota Plus subscribers can choose to avoid 25 unwanted players in matchmaking.
Most Valuable Player[edit]
After each match, the system selects an MVP based on internal analyses. MVPs are rewarded with shards.
Weekend Battle Cup[edit]
The Weekend Battle Cup is free to play every week for Dota Plus subscribers.
Winning a Weekend Battle Cup as a Dota Plus subscriber will reward 20,000 shards.
Plus Assistant[edit]
A variety of automated suggestions is available to Dota Plus subscribers, based on in-game events, team compositions, your hero's current lane, and overall analytics.
Ability build suggestions
Item build suggestions
Lane strategy suggestions
Ward suggestions
Friends and Foes based on statistics
Creep pull timer
Incoming damage type breakdown
Spectating[edit]
Dota Plus subscribers can spectate a friend's match in live time, with team vision only.
Statistics[edit]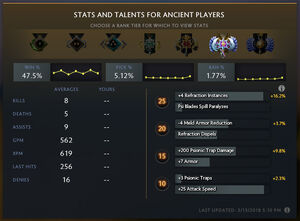 A large amount of Valve's internal statistics is made visible for Dota Plus subscribers, who can compare them to other players of varying skill levels.
Second-by-second death summary
Post-game analytics
Spectator game outcome prediction graphs
Gold statistics
Healing statistics
In-game real time analytics comparisons
Hero trends

Pick rate
Win rate
Ban rate
Talent pick rate
Global trends
Average kills/deaths/assists/GPM/XPM/last hits/denies
Pro Circuit App[edit]
An app for Dota Plus can be downloaded from the iOS App Store and Google Play Store.
Wagering[edit]
Players can wager shards on Dota Pro Circuit tournament matches.
Fantasy Dota[edit]
Players can earn shards by playing Fantasy Dota for Dota Pro Circuit tournaments.
External links[edit]